I may be a lil crazy for this (actually, I may be a lil crazy for a lot of reasons, but I digress)...but I've decided to enter PatternReview.com's Little White Dress Contest!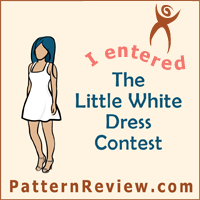 I only have 12 days to construct my LWD since I'm tardy to the party, but that should be more than enough time for me to make something.
The rules are that the dress must be simple and something that can be dressed up or down.
This should be a great challenge for me, and lots of fun. Eeek, I'm so excited about my first contest!!
I'm up against tons of sewing pros, but you never know what can happen.
Wish me luck, loves!
Labels: Sewcial Butterfly